Setup MI 5000 for AssessorSuite (using IE Mode)
revised 11.7.2022
The MI 5000 interface requires an activex object for the browser to communicate with the local serial port. This was traditionally accomplished with Internet Explorer but with Microsoft discontinuing Internet Explorer it is necessary to put Edge into IE mode for the integration to work.
Put Edge into IE mode

Go to https://assessor.ei1.com in Microsoft Edge

Click the in the upper right corner and select Reload in IE mode



Click the slider for "Open this page in Internet Explorer mode next time" and click done.



You should see in the address bar now. This means the site is in IE mode now.



Every 30 days you will be prompted to add the site back to the IE mode list.




Configure Trusted Sites

Open Internet Options

Click Windows Button
Start Typing "Internet Options" and search results should start to appear
Select "Internet Options"



Navigate to Security Tab->Trusted Sites->Sites (you may need to reach out to your IT group to modify this setting)



Add https://assessor.ei1.com/ to Trusted Sites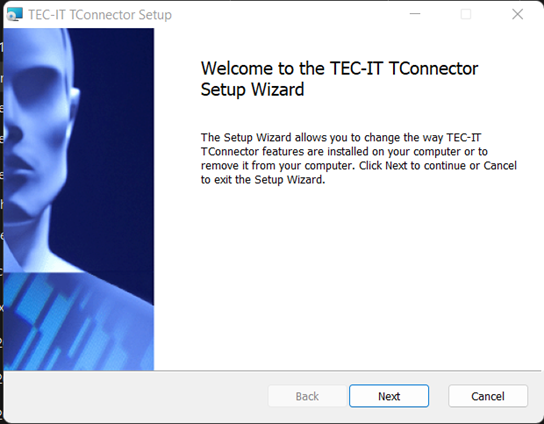 Close the browser to finish installation.


Configure AssessorSuite for your Audiometer

Log into https://assessor.ei1.com/



From the Dashboard -> Click Audiometers under the AudioAssessor Section



If your Audiometer is not already in the list click the to add a new one.



Enter the following info for your audiometer

Make & Model: MI-5000 or however you identify your Audiometer
Serial Number:
Last Exhaustive Calibration Date:
Driver: Monitor MI-5000 v5.1
Com Port: Select the COM port your audiometer is plugged into on your computer. If you aren't sure this can be determined by going to Device Manager->Ports (COM & LPT) to see what COM ports are available on your machine. Your IT group should also be able to determine the COM port.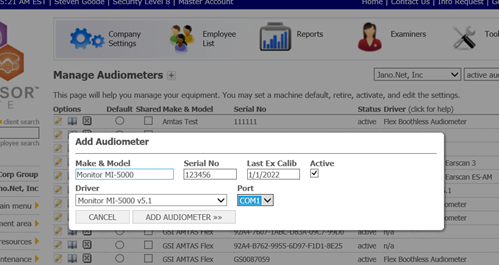 Click Add Audiometer


Click the AssessorSuite Logo in the upper left corner to go back to your dashboard. Under AudioAssessor click "Administer Audiometric Test"



The First time you visit this page you will be prompted for Session Credentials. Select the examiner (you) and the audiometer (the one you just added)



If Data Transfer says "data transfer possible from your audiometer" you are good to go. Click continue and start testing!
Troubleshooting
If you see "checking browser" for Browser and plugin on the First Audiometric Test of Session screen, you need to go add https://assessor.ei1.com to your trusted sites list (step 2c)
If you get red for Browser and Plugin you likely need to load the site in IE mode (step1) or verify you are in Microsoft Edge and not another browser like Chrome or Firefox.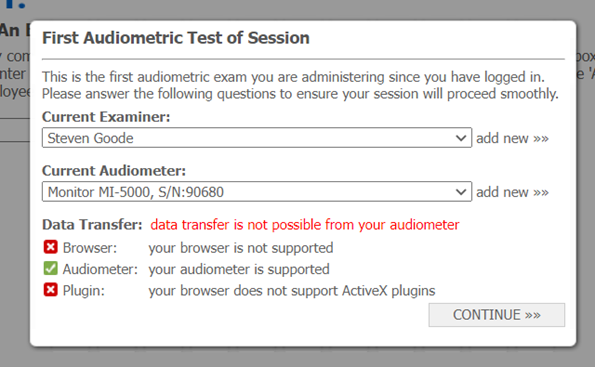 If you get green for Browser, green for Audiometer, and red for Plugin you need to install the T-connector plugin (step 3)
If you get all three green but data is not transferring over you need to check your com port setting. Also, need to make sure there isn't another program (like old Audio Software) using the same COM port.
Support Inquiries can be submitted at https://helpdesk.assessorsuite.com/hc/en-us/requests/new or by clicking "Get Support" in the upper right corner of the AssessorSuite webpage.