Log In.

Go to https://assessor.ei1.com/ and type in your login information.

Select "Administer Spirometric Test".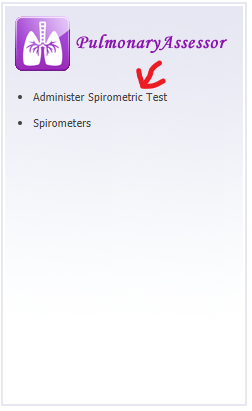 A pop up will ask which Spirometer you are going to be using for your testing, and who the current examiner is going to be.

Select the device you are going to use and select yourself as the examiner.

Add new if your name does not show up in the dropdown menu.

To automatically be able to transfer the results of the exam to Audio Assessor, make sure that the green check mark is next to the Spirometer you have chosen in the "Data Transfer" section.

Select an Employee.

Enter the name of the employee that is about to receive the audiogram.

Use the search bar if this is an annual exam.

That means the employee is already in Audio Assessor's records

"Add New +" if this will be a baseline exam (first time exam)

Fill out the Questionnaire.

Have the employee answer the entire questionnaire.
You have the option to "skip questionnaire" in the upper right corner. This will autofill "NO" for each answer.

Administer the Audiometric Exam

Please refer to the figure below for in depth description of this page and its various input fields.

Plant: This field should display their Operating Facility.
Department: This field should display the department the employee works within the facility.
Job: This field should display the occupation for the employee.
Shift: This field should display the time frame at which the employee conducts their work.
Supervisor: This field should display the supervisor for this employee.
Test Date: The date at which the testing is taking place.
Examiner: should be yourself or the person who shall be conducting the Pulmonary Exam.
Exam Type: should describe the type of Pulmonary Exam being conducted.
TWA: Time Weighted Average
Height: Input the height of the employee.
Weight: Input the weight of the employee.
Race: Input the race of the employee.
Check this box if you need to use Ethnic Correction.
Spirometer: This should display the Spirometer you, the examiner, is going to use for the examination.
Test Field: should be the area where all the results for the examination are recorded.
Comments/Notes: This field should be used to convey any irregularities or comments you, the examiner, think is important to include in the report.
Once the data has propagated on the previous screen, click submit test.

This should present to you the form that you should give to the employee.
There is an option to print out the form in the top right.
You have successfully administered a Pulmonary Exam!