Step 1: Login to https://assessor.ei1.com/
Step 2: Click Administer an Audiometric Test

Step 3: Select the Calibrating Examiner (the examiner taking the hearing test for daily calibration purposes) and the Amtas Flex audiometer and click continue. If the "First Audiometric Test of Session" box does not appear, click "session check" at the bottom of the screen to bring it up. Click Continue >>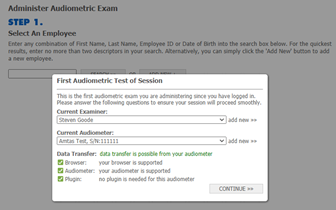 Step 4: The Calibration box should pop up next. If not please click calibration at the bottom of the page to open it. Make note of the Last name and DOB in the instructions. These are the values that need to be entered on the Amtas Flex. Click Continue >>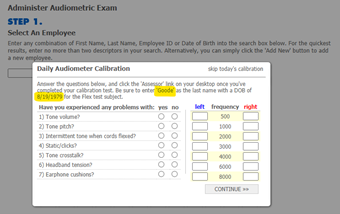 Step 5: Go to the Amtas Flex and have the calibrating examiner take a hearing test (entering the last name and dob exactly as it is displayed in Step 4).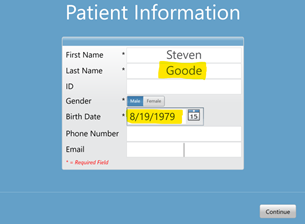 Step 6: Redirect your attention to the "Daily Audiometer Calibration" window on the computer. Once the test is complete the Amtas Flex will automatically upload the test to AudioAssessor. This can take up to two (2) minutes. This occurs in the background. The test values will automatically appear in the calibration window. There is no need to refresh the window or reload the page.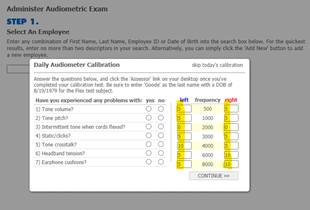 Step 7: Answer the questions and click continue. You are done!